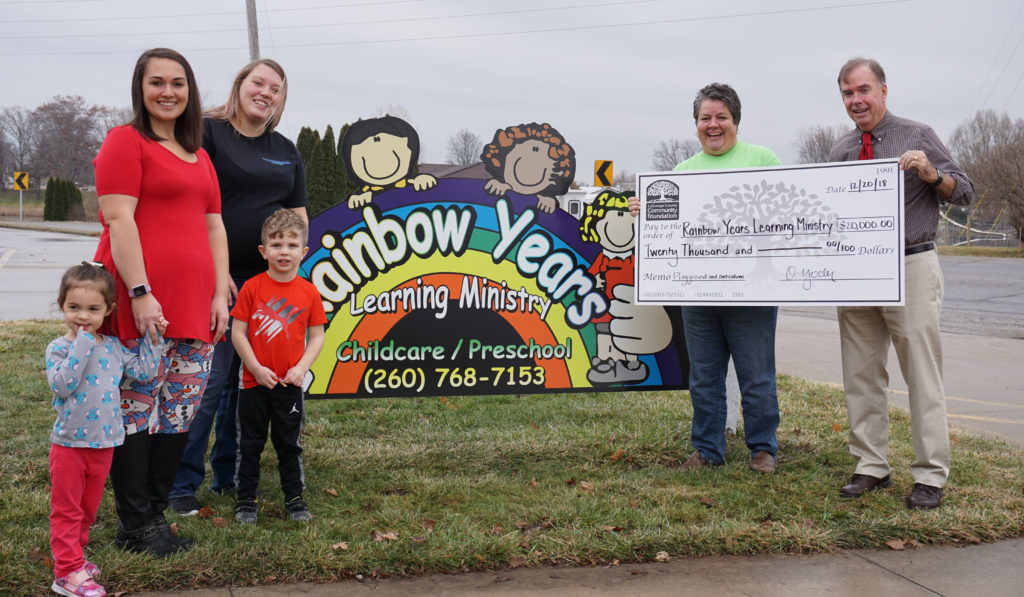 LAGRANGE – The LaGrange County Community Foundation awarded Community Impact Grants totaling $96,441 in 2018 to 16 nonprofit organizations serving residents in LaGrange County.
Through Community Impact Grants, the foundation aims to support nonprofit needs and provide innovative programs and services for local residents.
Rainbow Years Learning Ministry in Shipshewana was among the 16 organizations who received funding. The Community Foundation awarded Rainbow Years $20,000 for new playground equipment and curriculum materials.  
Rainbow Years will replace old playground equipment and provide new fencing, with age-appropriate activity structures for children. The total project cost of $61,000 has been financed through local fundraising and an additional grant from a private foundation. Additionally, the grant will support the curriculum program, which focuses on social and emotional learning and preparing children for kindergarten.
"Rainbow Years Learning Ministry is just so very excited about our plan to extend the classroom to the outdoors with our new playground.  It will be an amazing area for children to explore, run, jump, learn, inspire, create, imagine, enrich, and grow socially and emotionally," said Portia Amstutz, the director of Rainbow Years.
 "We are also excited about sharing it with the broader community (when the daycare is not in session). We want all families to enjoy a safe and inviting play place even if they are not enrolled in our program," Amstutz added.
Each year, the Community Foundation accepts proposals for charitable projects and programs that help local nonprofit organizations provide services to LaGrange County families and individuals. The Grants Advisory Committee reviewed the submitted grant applications and made recommendations to the Board of the Directors who approved the grant awards. The grants are made possible through the generosity of donors who have supported the unrestricted charitable funds at the Foundation. 
In 2018, the LaGrange County Community Foundation awarded $96,441 in Community Impact Awards. Those projects and programs include:
Reason 4 Hope, $2,000, Camp Hope
LaGrange County Council on Aging, $10,300, LaGrange Area Transit Van
LaGrange Communities Youth Centers, $2,420, Art and Drama Camps
The Farm Project, $25,000, Emergency Foster Care Home
Hoosiers Feeding the Hungry, $5,000, Meat processing fees for food pantries
Youth for Christ of Northern Indiana, $1,500, Campus Life program materials and equipment
LaGrange Church of God, $2,200, Night to Shine
Ark Animal Rescue and Adoption, $1,500, Pet ID machine
Mad Anthonys Children's Hope House, $2,000, Operational support for LaGrange County families
Compassion Pregnancy Center, $10,621, LaGrange Office Remodel Project
Kate's Kart, $2,500, LaGrange County Book Distribution
Phillip's House, Inc. $1,500, Board training and consulting
Elijah Haven, $3,900, Batterers Intervention Program
Community Harvest Food Bank, $5,000, LaGrange County Farm Wagon
Impact2818 at Camp Lakewood, $1,000, AED safety equipment
In 2019, proposals for Community Impact Grants will be accepted on April 1 and September 3. A grant training session will be held on Wednesday, February 20, from 4-5 p.m. at the Community Foundation. The session will provide information on the Community Impact Grant program and how local nonprofit organizations can apply for funding. RSVP is required. To learn more, visit www.lccf.net.
The LaGrange County Community Foundation's mission is to inspire and sustain generosity, leadership and service. Founded in 1991, the Community Foundation connects people to charitable causes and provides resources to nonprofits to make a lasting and sustainable impact.