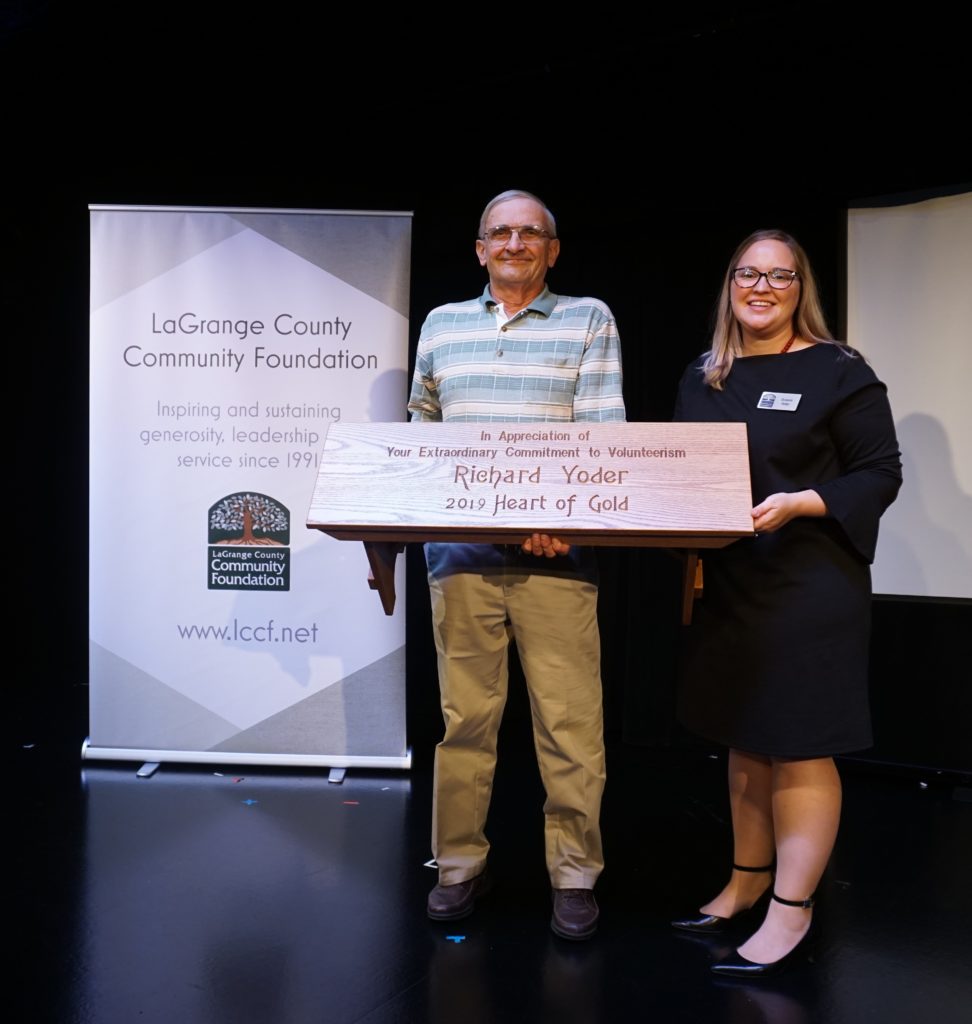 The LaGrange County Community Foundation named Richard Yoder of Topeka the recipient of the 2019 Heart of Gold Award on Sep. 12.
Since 2010, the Community Foundation has honored an individual in LaGrange County who goes beyond the call and embraces a commitment to service. In honor of the award, Richard will be able to direct a $1,000 grant to his favorite LaGrange County nonprofit.
Community Foundation Executive Director Octavia Yoder made the surprise announcement at the evening celebration honoring all 2019 nominees at the Blue Gate Theatre.
A longtime farmer, Richard has volunteered with the Clothes and Food Basket of LaGrange County for the past 17 years. Since 2009, he has served as the President of the Board of Directors. Nominated by his fellow volunteers, it is common to see Richard at The Basket willing to help in any way that he can. In their nomination submission, the volunteers wrote, "Richard's dedication and strong work ethic are shining examples of his leadership skill which guide the volunteers to graciously serve our clients. Richard has made a positive change in the hearts of many as he serves so generously."
Richard spearheaded the capital campaign to secure funds for The Basket's new facility on Railroad Street in LaGrange. In one year, The Basket had a new place to call home, completely debt free.
The Community Foundation received four nominations for the tenth annual award. The 2019 nominees included Robinn Mitchell, director of the LaGrange Bowen Center and LaGrange County Drug Court volunteer; Carol Helmer, Parkview LaGrange Gift Shop volunteer; and Carrie Lambright, American Cancer Society's Road to Recovery Program volunteer.