Early Childhood Alliance is building better futures in LaGrange County by partnering with parents, grandparents and local early intervention resources. The program is Parents as Teachers, PAT, and focuses on the individual strengths of each family to provide early learning experiences for their children. PAT supports parents as their child's first and most influential teacher. PAT meets with families whose children are most at risk for school success.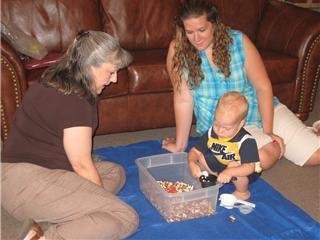 This year Early Childhood Alliance was able to serve 10 families through the PAT program, servicing roughly 22 children. Families participating in PAT have children ranging in age from prenatal to age six. Families involved may have one or more barrier that may hinder the child's readiness for school and ultimately school success. Some barriers may include, low income levels, low family education and English language learners.
The PAT program provides the opportunity to fill a gap in the community, providing support to parents through age 6, whereas other programs serve families up to age three.
Early Childhood Alliance is pleased to report that 80% of families indicated an increase in three or more of the nine critical areas of parenting skill and knowledge. Four children graduating the program will enter kindergarten, 100% have demonstrated they have the skills to be ready!
The PAT program was funded in part by a Community Impact Grant from the LaGrange County Community Foundation.