Local heroes will be honored through banners placed throughout the town of Lagrange in a project led by the inaugural 2021 Leadership LaGrange County class. This community action project will build pride by highlighting the contributions of those who have served our country and community.
Leadership LaGrange County is a program of the LaGrange County Economic Development Corporation. Participants attended leadership sessions aimed to train and prepare them for community engagement, economic development, and economic growth. Upon the completion of the sessions, the group was challenged to brainstorm and implement a community project. LaGrange County Hometown Heroes is supported by a $2,000 grant from the Community Foundation.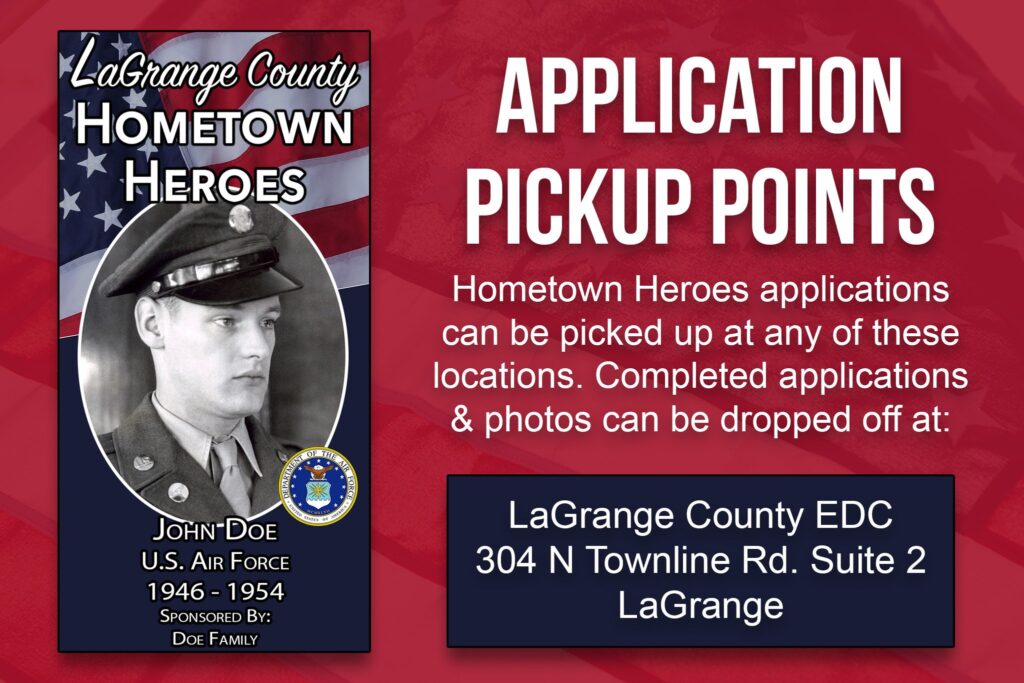 The LaGrange County Hometown Heroes banner program will make banners available for purchase that honor LaGrange County heroes including current and former military, first responders, law enforcement, and conscientious objectors. The banners will be placed in town and will hang for one year. To honor an individual, applications can be picked up at the Community Foundation, LaGrange County Economic Development Corporation, LaGrange County Chamber of Commerce, LaGrange Library, LaGrange County Planning Commission, LaGrange County Veterans Affairs Office, American Legion, and the LaGrange Town Hall.
Completed applications along with a $100* fee must be submitted by June 14, 2022, and sent to the LaGrange County Economic Development Corporation, 304 North Townline Road Suite 2, LaGrange, IN 46761.
For more information email hometownheroes.lagrange@gmail.com. Be sure to follow the story on Facebook at: LaGrange Hometown Heroes.
Want to support the Hometown Heroes program? Gifts to the LaGrange County Hometown Heroes Fund is fully tax-deductible, simply write "Hometown Heroes" in the memo line of your check to the LaGrange County Community Foundation. 
*Please make checks out to LaGrange County Community Foundation with Hometown Heroes Banners in the memo line. The $100 non-refundable fee covers the cost of the banner.