Community Foundation approves three-year strategic plan
We are pleased to introduce the next 3-year strategic plan for the LaGrange County Community Foundation. The LaGrange County Community Foundation Board of Directors and Foundation staff have worked together over several months to develop this plan.
With the assistance of Jen Pendleton from Aly Sterling Philanthropy, we hosted focus groups with LaGrange County nonprofit directors and community leaders, and surveyed key stakeholders, including donors, board members, nonprofits, community partners and volunteers in October of 2021.
Our Board of Directors and staff listened to the feedback and ideas from those conversations at our annual Board Retreat in November. We challenged ourselves to be open to new ideas, to strive for excellence, and to listen to community needs. After several months of evaluating our goals and initiatives, our Board of Directors approved the strategic plan in February 2022.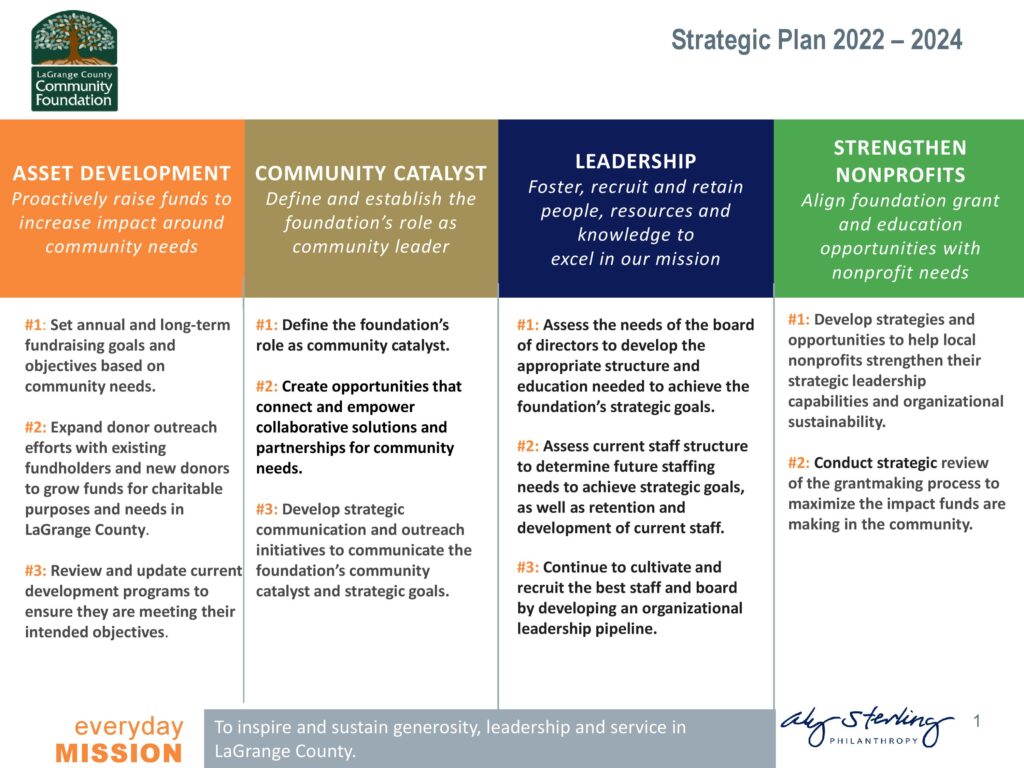 The Foundation identified four strategic areas that will guide the core of our work: Asset Development, Community Catalyst, Leadership and Strengthen Nonprofits.
Asset Development – We will proactively raise funds to increase impact around community needs. By expanding our outreach efforts, we seek to grow funds and engage new donors in supporting charitable purposes and community needs in LaGrange County.
Community Catalyst – We will define and develop the Foundation's role as a community leader. Staying to true to our mission as a grantmaker, we seek to find additional opportunities for collaborative solutions and partnerships around our community's greatest needs.
Leadership – We will foster, recruit, and retain people, resources, and knowledge to excel in our mission. By creating a leadership pipeline in the Foundation's board and staff, we will broaden the Foundation's ability to meet community needs and be more effective and efficient in our work.
Strengthen Nonprofits – We will align Foundation grant and education opportunities with nonprofit needs. By providing more resources to our local nonprofit community, we seek to build up their organizational sustainability and capacity to do more good work.
We will carry out these areas of focus by following the Foundation's mission statement: To inspire and sustain generosity, leadership and service in LaGrange County.
We are guided by our core values: approachable, caring, catalyst, connector, empowering, trusted.
We will keep our eyes on helping generous people make a difference in LaGrange County and continue to support initiatives in LaGrange County that promote a better quality of life for all.